How to Download and Install iOS 17 Guide (Beta Included)
by Sophie Green Updated on 2023-09-20 / Update for iOS 17
Revealed on September 18, 2023, this advanced iOS 17 update is set to revolutionize your iPhone experience. Now you won't be worried about how to free download and install iOS 17. Apple, known for their commitment to excellence, offers early access to the beta version for both developers and adventurous users like yourself. So, prepare to dive into the future of iOS with our comprehensive guide on iOS 17 download. Get ready to embrace innovation like never before!
Precautions: Back up Your iPhone before iOS 17(Beta) Profile Download
Before embarking on your iOS 17 and iOS 17 beta adventure, taking precautions to safeguard your precious data is crucial. So, if you haven't backed up your iOS device, this is the sign to do it now!
Here is how to back up your iPhone befor iOS 17 beta profile download:
Open Settings and tap into your profile.
Find iCloud Backup and click in.
Open the "Back Up This iPhone" button.

Clik "Back Up Now" so your data will never loss.
If you still need the step by step guide on how to back up iPhone before iOS 17 beta download, check this video guide:
How to Download/Install iOS 17(Beta) on iPhone in 4 Ways [Video Guide]
Are you ready for the iOS 17 beta download on your iPhone? Whether you prefer the official iOS 17 beta iPSW download or want to explore the iOS 17 public beta download, we've got you covered with step-by-step instructions and tips to ensure a smooth installation process.
Way 1: Download iOS 17 in iPhone Settings
You can download and install iOS/iPadOS 17 in your devcie settings. Here're the steps:
Go to Settings
Choose General
Then tap on Software Update

You will see the iOS 17 update and choose "Download and Install" or "Install Now". Wait for the process to complete.

If you can't see the iOS 17 update, check if you turn on the "Automatic Updates" option.
Way 2: Download iOS 16.6 Beta Profile to Get iOS 17 (Beta) Profile
Here is a new but unusual way to help you solve the problem of how to download and install iOS 17 beta, and that is by downloading iOS 16 beta. If your iPhone is an iPhone XR or a new model coming out later, the beta profile will automatically adapt to your phone and push you a notification to download iOS 17 beta. Follow these steps to download iOS 17 beta:
1. Download: iOS 16 beta profile
2. Open Settings>>General>>Software Update, and Turn on Beta Updates option.
3. You will see iOS 17 beta profile, click Download and Install and your iPhone will be updated to iOS 17 beta automatically.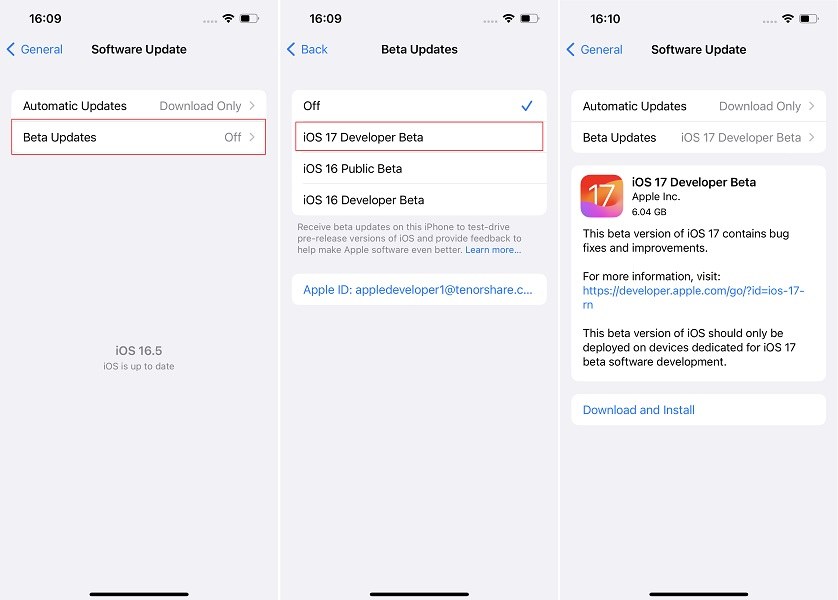 Way 3: Download iOS 17 (Beta) Profile via Apple ID
For those eager to get their hands on the iOS 17 beta and have a taste of its cutting-edge features, downloading the iOS 17 developer beta profile is a fantastic option.
In this method, we'll explore how to obtain the iOS 17 beta profile using Apple ID, which not requires an Apple Developer Program membership at $99 per year, giving you exclusive and free access to the latest iOS 17 features and updates. You can see below the comparison between Apple ID and developer account permissions, it is obvious that Apple ID can also download iOS 17 beta.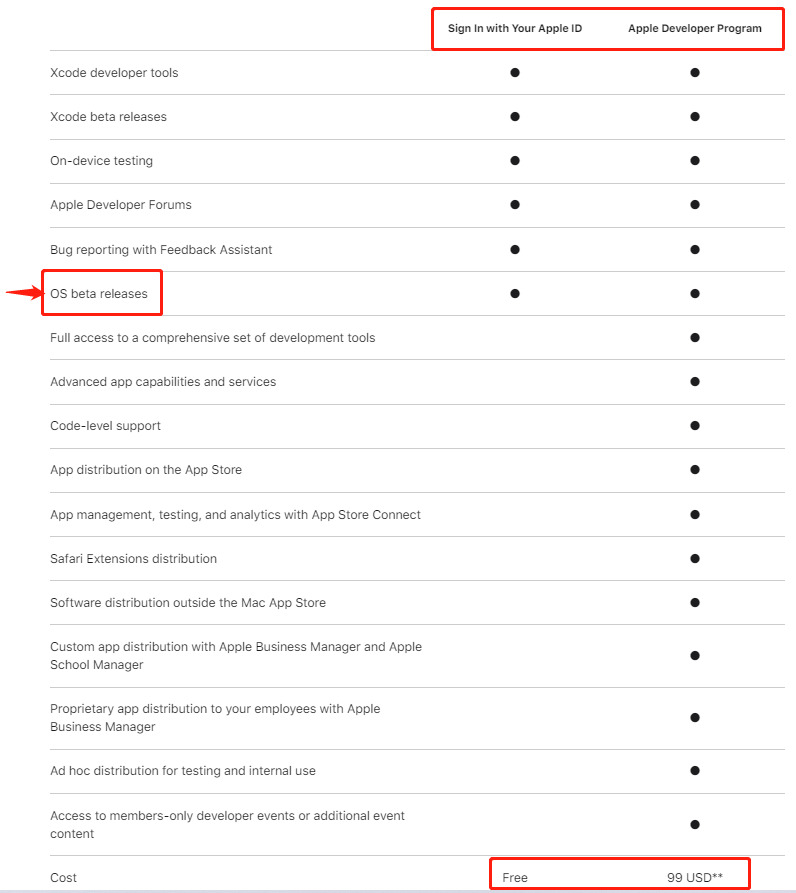 To download the iOS 17 beta profile:
Visit developer.com and sign in with your Apple ID. Agree to the Apple Developer Program accord.

Go to "Downloads" and find the iOS 17 beta profile download. Click "Download."

Open "Settings" on your device and tap your Apple ID.

Select "Beta Updates" and install the iOS 17 beta or RC profile.
By using this method, you can download and install the iOS 17 seveloper beta profile on your iOS device without developer account. However, it is crucial to remember that the iOS 17 developer beta is intended for developers and may contain bugs and issues. So, ensure you have a backup of your device before proceeding with the installation.
Way 4: [Safe] How to Download iOS 17 (Beta) without Developer/Program Account
Looking for a hassle-free way for how to download iOS 17 beta or iOS 17 RC on your iPhone without any complicated steps? Look no further than Tenorshare ReiBoot, the ultimate solution for a one-click installation.
To install and download iOS 17 beta on your iPhone with a one-click using Tenorshare ReiBoot, follow these steps:
Launch the ReiBoot software and connect your iPhone to the computer using a USB cable. Click in "iOS Upgrade/Downgrade".

Choose the Upgrade option once prompted.

Download the latest firmware package by clicking on "Download" and wait for the firmware package to download.

You'll see the upgrade initiated, which will take a few minutes to complete.

This is the safest method about how to download and install iOS 17 beta on your iPhone. So, we recommend it using it!
If something is still unclear, you can watch this video tutorial on how to download and install iOS 17 beta without developer account.
Way 4: Download iOS 17 Public Beta without Computer
You can manually download iOS 17 public betad by participating in the Apple Beta Software Program. Once you join the program, you can easily install the iOS 17 public beta and explore its exciting new features.
1. If your iPhone running iOS 16.4 or later: Click "Open Beta Updates" and choose Open option. It will automatically navigate you to the Beta Updates in Settings. Then Choose iOS 17 Public Beta, and you will see the iOS 17 beta profile. Tap Download and Install and your iPhone will automatically restart with iOS 17 version.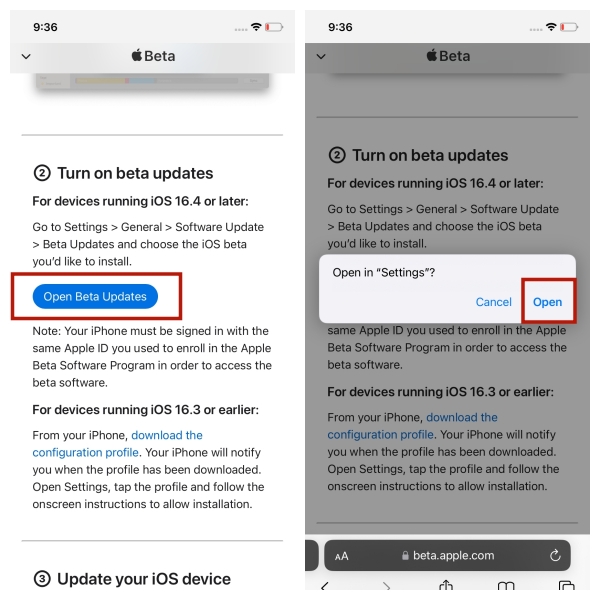 2. If you iPhone running iOS 16.3 or earlier: Simply click "download the configuration profile". The profile will be automatically downloaded on your iPhone. After download finished, you will see the iOS 17 beta like above. Tap Download and Install and your iPhone will automatically restart with iOS 17 version.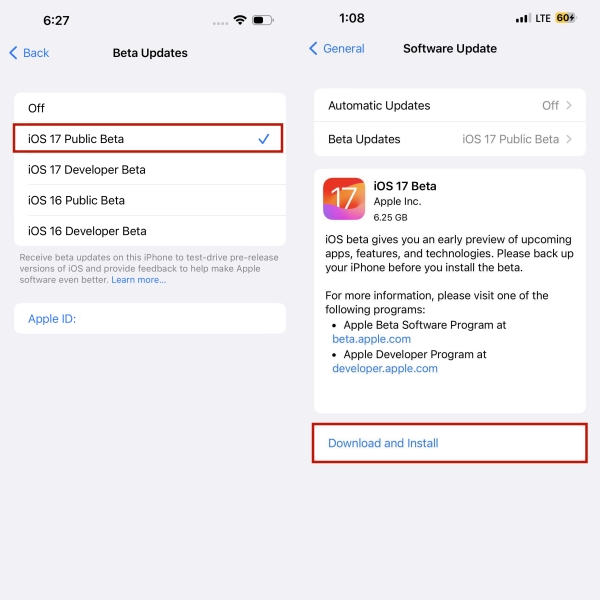 Extra Tips: How to Downgrade iOS 17 to iOS 16 [Quick & Safe]
If you encounter any bugs or issues while using the iOS 17 on your iPhone or iPad, Tenorshare offers a reliable solution to downgrade your iOS 17 to iOS 16 effectively. It is a powerful software that offers a convenient one-click solution for iOS downgrade or upgrade. With its user-friendly interface and advanced functionalities, ReiBoot simplifies installation and ensures a safe and smooth experience.
ReiBoot allows you to enter and exit recovery mode effortlessly, fix various iOS issues, and manage your device effectively. By utilizing Tenorshare ReiBoot, you can easily perform iOS 17 download on your iPhone with just a single tap, saving you time and effort.
Run ReiBoot on your computer and connect iPhone to computer. Once the device is connected, click "iOS Upgrade/Downgrade" at the left of the panel.

Since it is a first official version, you should choose Downgrade mode. Then, click the button below.

ReiBoot will detect your iOS version automatically and display the downgradable iOS firmware. Click "Download" to get the package.

Once the firmware package is downloaded on your computer, you can click 'Initiating downgrade' to downgrade iOS 17 to iOS 16.6.1

When the downgrade is completed, you will see the completed page and your iPhone/iPad will go back to the previous version.
Tenorshare ReiBoot provides a seamless solution to fix iOS 17 bugs and ensure a smooth experience while using the iOS 17.
FAQs about iOS 17
Q1: Which devices will iOS 17 support?
iOS 17 supported devices include iPhone SE/XR and later models, specifically: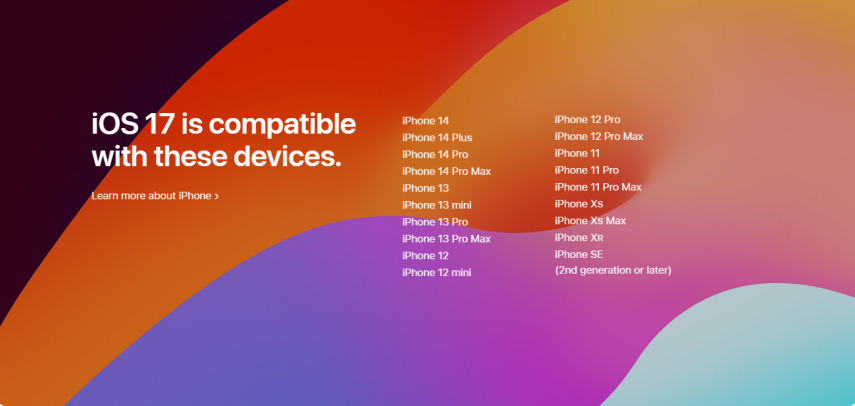 Q2: Is iOS 17 available for iPhone X?
Unfortunately, no. According to Apple, iOS 17 is now compatible with the iPhone XS and newer models, which implies that support for the iPhone 8, iPhone 8 Plus, and iPhone X has been discontinued.
Q3: What are iOS 17 new features?
iOS 17 includes a variety of new features and improvements. Some of the notable new features in iOS 17 are:
Customizable iOS 17 phone calls.
Callkit live voicecall.
Audio message transcription.
Autocorrect on keyboard.
Record a video or audio message when someone misses your FaceTime call.
StandBy-A new full-screen experience.
Swap numbers with NameDrop.
Initiate SharePlay
Journal app.
etc.
Q4: Is iOS 17 (beta) stable and safe?
Absolutely! Beta Apple can be a thrilling and rewarding experience. While it's essential to exercise caution, Apple beta is generally safe to explore. They provide a unique opportunity to preview and test upcoming features, giving you a sneak peek into the future of Apple software.
Just remember to back up your data, be prepared for potential bugs, and embrace the excitement of being at the forefront of innovation.
Q5: When can I download iOS 17 public beta?
Is iOS 17 public beta out? After June 12, the iOS 17 public beta was released, making it available for users to download and test out new features before the official release. The public beta program is open to anyone who is interested in trying out the latest version of iOS, and it is generally considered to be more stable than the developer beta.
Q6: What's the difference between developer beta profile and public beta profile?
The main difference between a developer beta Profile and a public beta Profile is accessibility. The iOS developer beta Profile is typically released first. It requires a developer account, while the public beta Profile is made available to a wider audience and does not require a developer account.
Final Thought
How to free download and install iOS 17 on your iPhone opens up a world of exciting new features. Remember to take precautions, back up your device, and explore different methods like the official Apple Developer Program or the user-friendly Tenorshare ReiBoot.
With Tenorshare ReiBoot, you can enjoy a seamless one-click installation process and even troubleshoot any bugs that may arise. Embrace the future of iOS with the iOS 17 and iOS 17 beta and elevate your device experience to new heights.
Fix iPhone Stuck and Update Issues without Data Loss